Here we go again! At least this time, the interpretation booth will be just a distant memory… Ladies and gentlemen, I'll have the honour of sitting next to the speaker! That's right, I'll be consecutive interpreting. That's because when you're at a conference with a small number of participants, such as a press conference, this kind of interpretation technique is the one to use.
You're probably wondering: how do you tackle this kind of interpretation work?
Well, there are three essential tools that consecutive interpreters should always have to hand: paper, pens and an excellent memory.
The interpreter sits next to the speaker and has to translate what he or she says accurately. The notes we can take whilst they talk can help us remember what they've said. Taking notes is very important if we want to interpret properly and that's why this particular activity is based on very specific techniques that we interpreters have to abide by:
Though accurate, our notes also have to be brief.
Our notes should just contain the essential points of what is being said, not entire sentences.
Abbreviations and symbols are necessary in order to waste even less time. Just think, I have a whole notebook full of them and the list is constantly updated.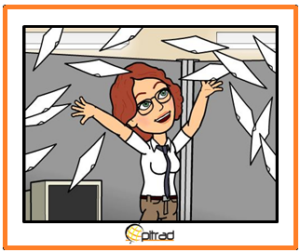 The way we take notes is also important and can help us write much quicker. You need to forget the usual way of writing and develop a vertical writing technique, where every part of a sentence is at a different level and will be easy to recognise when we are then asked to reconstruct what has been said, usually over a period of 15 minutes.
Goodness, is that the time?! I'd better get ready. I won't be hidden away, this time I'll be in full view, so I'll have to wear something elegant and understated, something neutral but not dowdy. I think I'll go for a white blouse, black trousers and heels. Something simple and smart.
I really do have to go now. Until next time!!
Consecutive interpreting: it's all in the notes
ultima modifica:
2016-04-04T09:32:44+02:00
da