Hello everyone! Today I'll be doing a stint of simultaneous interpretation. I wonder if I've got everything I need: my computer, my notes, my glasses… and of course, how should I dress? In black, you can't go wrong in black! Even though practically no one will see me
That's right, because simultaneous interpreters work in a sound-proof booth equipped with headphones and a microphone. Yep, we interpreters stay out of sight and simultaneously translate what the speaker says so that the other conference participants hear the translation immediately.
So what happens inside the booth?
At every conference, there are as many booths as there are language combinations.
For example, if the speaker is addressing the conference in English and there are Italian, French and German delegates present, there will be three booths. There's room for two interpreters in each booth, who usually alternate every 15-30 minutes. This ensures that the high levels of concentration that interpreters have to maintain don't wane due to extended periods of simultaneous translation.
What's more, the fact that there are two of you in each booth allows you to take remedial action if one or both of you haven't had a chance to study the conference documentation in enough detail beforehand. In such cases, while one interpreter starts translating, trusting in their own longstanding experience and intuition (and preferably without looking terrified, even if no one can see us perched up there in our booth!), the other writes up a specific glossary that allows both to acquire the particular lexicon that pertains to the conference as quickly as possible. And Bob's your uncle!
Do I look terrified? Thank goodness my colleague has just finished a stint on the same subject!
You never imagined that simultaneous interpreting is a team effort, did you? Instead, cooperation between the two interpreters in the booth is essential. Of course, you don't always find yourself working with someone you get on with…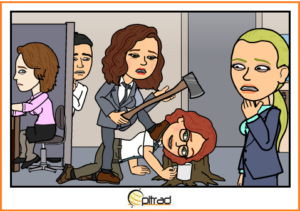 But that's another story…
Simultaneous interpreting: a pleasure or a pain?
ultima modifica:
2016-03-23T09:36:08+01:00
da