Interview with Mr Aris Ghilardi, Head of Sales, Marketing & Rental at Andermatt Swiss Alps
A weekend in the Swiss Alps gave us the chance to get to know Aris Ghilardi, Head of Sales & Marketing at ASA, one of the key players in the exclusive tourism sector. A unique opportunity for Opitrad, who has been enthusiastically providing translations for such an exclusive holiday resort as Andermatt Swiss Alps.
Mr Ghilardi, could you tell us a bit more about the Andermatt Swiss Alps project?
In order to understand our company and the extent of the project, it might be a good idea to start with the figures: six 4 and 5-star hotels; approximately 500 apartments, located in 42 buildings; 25 exclusive villas; a congress centre; an indoor swimming pool; a wonderful 18-hole golf course and, finally, the Andermatt-Sedrun with over 120 kilometres of ski slopes. All this is Andermatt Swiss Alps Resort, the new, integrated holiday destination in the hamlet of Andermatt. A resort that is in full development.
Exclusivity, high quality, but also sustainability is the key focus of your company's mission… 
Yes. With its rich selection of accommodation and lifestyle options, the Andermatt Swiss Alps project has transformed the elegant hamlet of Andermatt into an extraordinary holiday destination, both in the summer and winter, but all in complete respect of nature, because sustainability is also the foundation on which Andermatt is based.
We've been collaborating with you for more than years now. Has the decision to make Opitrad translate all your material into Italian made it easier for you to approach the market place?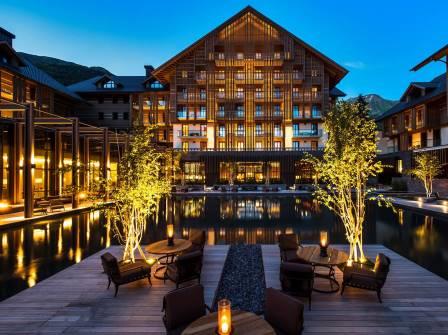 The translation for exclusive holiday resorts is a must, especially when you consider that Andermatt Swiss Alps has recently made one of the biggest investments (2 billion euros) in the European tourist sector. And in relaunching this historic village as a global tourist attraction, we certainly can't ignore the Italian market. Andermatt Swiss Alps means big hotels, residence complexes, shopping facilities and spas, as well as an extensive network of ski lifts on the slopes of San Gottardo, which is right on the Italian border. Milan, the lifestyle and luxury capital of Italy, is only 2 hours away from here. In fact, many of our Italian friends are enchanted with the genuine, natural beauty of not only Andermatt but the entire Orsera valley and they continue to choose this oasis, far from the hustle-and-bustle of everyday life.
Andermatt is basically the barycentre of Switzerland and alpine tourism. It's an invitation to the Italian market to continue to invest in our real estate projects. This is why it's so important that all our communication is localised in Italian, by translators who are experts on exclusive holiday resorts.
The importance of translation for exclusive holiday resorts
ultima modifica:
2016-10-24T15:38:29+02:00
da