We like to think of Opitrad as an ecosystem in which the skills of individual people come together, forming a single vision placed at the customer's disposal.
How does Opitrad work?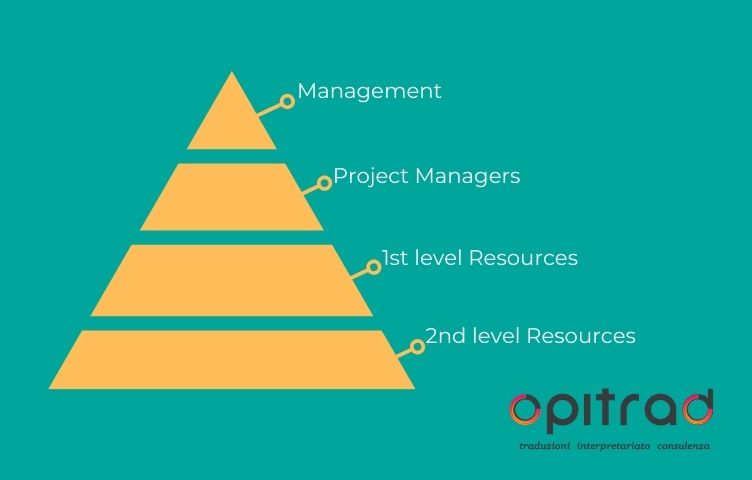 Management controls the entire process and handles customer relations.
The Project Managers organise the various stages of the project, mapping the resources needed and deadlines. They prepare style guides, coordinate translators and carry out QA.
1st level resources are our trusted translators, interpreters and consultants. They have a longstanding relationship with our agency, and offer us availability on a priority basis.
2nd level resources are translators, interpreters and consultants who are activated to form work teams for large projects in which the material needs to be divided up. They are coordinated by the PM, or by a 1st level resource.
Here at Opitrad, we have fostered a multilingual network of qualified translators and interpreters coordinated by senior linguistic and digital communication consultants. Our human resources are able to provide required language combinations, from the simplest to the most complex, thanks to fundamental training, lifelong learning and ongoing development.
Added to these professionals are the journalists, editors, subtitlers, video makers and audio producers who help us bring creative and multimedia projects to life.
How we choose our co-workers
Our co-workers are always mother tongue, and for the most part are translators and interpreters with a degree in Languages, Translation and/or Interpreting. Many are graduates of top-flight translation and interpreting schools in Milan, Trieste, Bologna, Forlì, Venice, Naples and Geneva.
Most of our resources specialise in a given field, and are affiliated with the main trade associations (AITI, ANITI, AIIC, ATA, etc.). This means they have professional requisites which are assessed at periodic intervals, and they must undertake ongoing training. We also work with professionals who are registered experts working with Italian and European courts.
Experience right across the board
Over the years, we have built up a wealth of experience in integrated communication. This has in turn prompted us to offer solutions to customers in need of assistance with strategic and operative development processes involved in communication (whether digital or otherwise). As a result, we have been offering consultancy services for creating social, editorial and technical content since 2020.
Do you think our resources are just what you've been looking for? Find out how we can help you!
The Opitrad team
ultima modifica:
2021-07-20T13:47:11+02:00
da