Our Work Approach
Being a small agency doesn't mean we only handle small projects. Quite the opposite in fact: greater complexity calls for a more efficient organisation which is precise and integrated. Our work approach means we can manage the whole process from start to finish, guaranteeing the utmost quality every step of the way.
PHASE 1: Analysis
The Project Manager receives the material from the client and analyses it to obtain all the information needed to draft the quote. We have framework agreements in place with many of our clients, allowing us to streamline the purchasing process considerably, as well as ensuring we can apply exclusive discounts over the course of the year.
PHASE 2: Allocation
The PM assigns the material received to the best-suited translators. If necessary, the material is divided up between several resources to ensure the stipulated deadlines can be met. We also check to ensure our translators have all the information they need to carry out the work.
PHASE 3: Fulfilment
The translators carry out the requested work. We only work with human mother tongue, qualified translators that use computer-based tools to support their work, and we have deliberately chosen not to offer machine translation and post-editing services. Not because we are against using the technology (it actually offers extraordinary applications which prove vital in certain business areas), but because we have decided to invest our efforts in projects where the primary requirement is quality, rather than quantity.
PHASE 4: Checking
The PM receives the translations and checks to ensure they are complete, and that the customer's requests have been met. Where needed, a second translator proofreads them. In the case of European languages, the PM carries out an additional check.
PHASE 5: Delivery and follow-up
The PM sends the translation to the customer, raising any issues or offering any input that might have emerged during translation.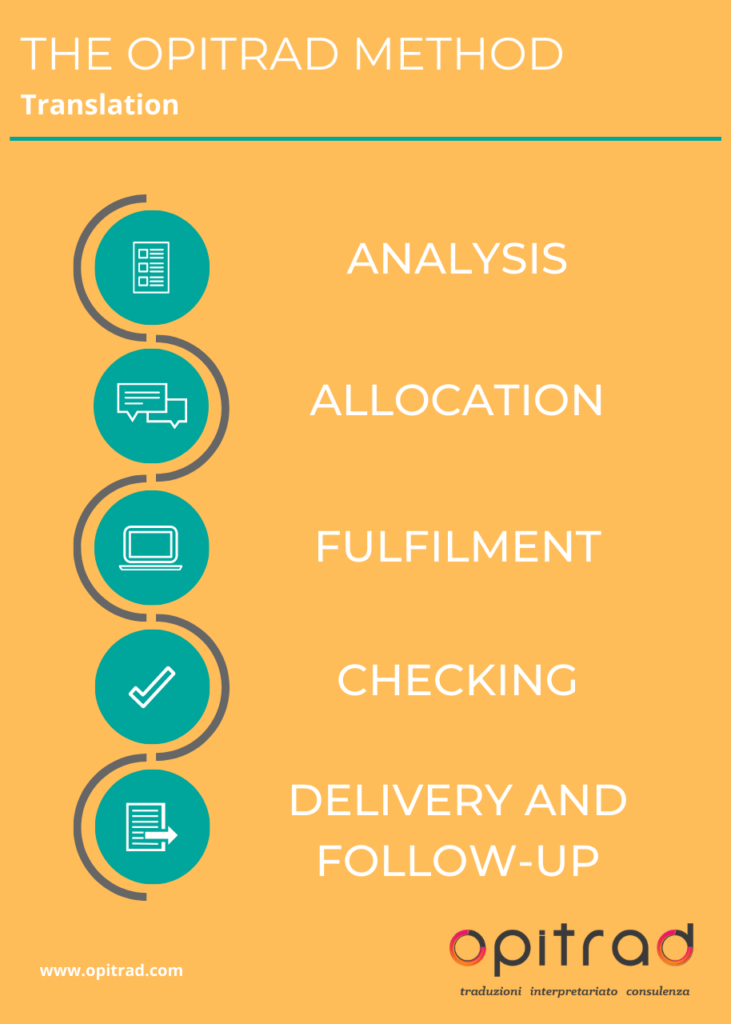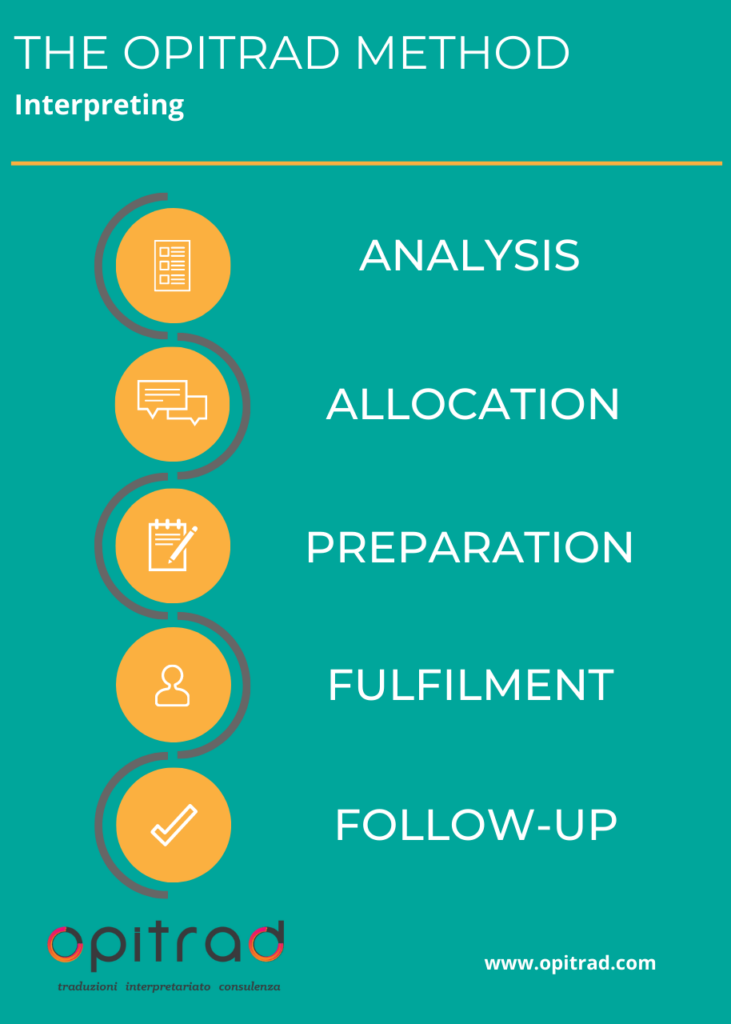 PHASE 1: Analysis
The Project Manager receives the customer's request and checks that all the information needed to organise the work has been provided (type of interpreting, number of people involved, language combinations, any technical equipment required, place of work etc.)
PHASE 2: Allocation
The PM selects the right interpreters, depending on the field concerned and the location.
PHASE 3: Preparation
Once the job has been confirmed, the PM ensures the interpreters receive all the supporting materials needed to prepare for the event. The PM works alongside them to create any glossaries and give briefings, whilst managing any release forms and informed consent documents. Last but not least, the PM sends out details of the event schedule.
PHASE 4: Fulfilment
On the day of the event, the interpreters make their own way to the place of work, or they access the online platforms if the meetings are held remotely. Where necessary, we can supply simultaneous interpreting equipment.
PHASE 5: Follow-up
At the end, the PM receives feedback from its providers via a report, and from customers via direct contact.
Our Work Approach
ultima modifica:
2021-07-20T13:00:54+02:00
da